You Gather In the Outcast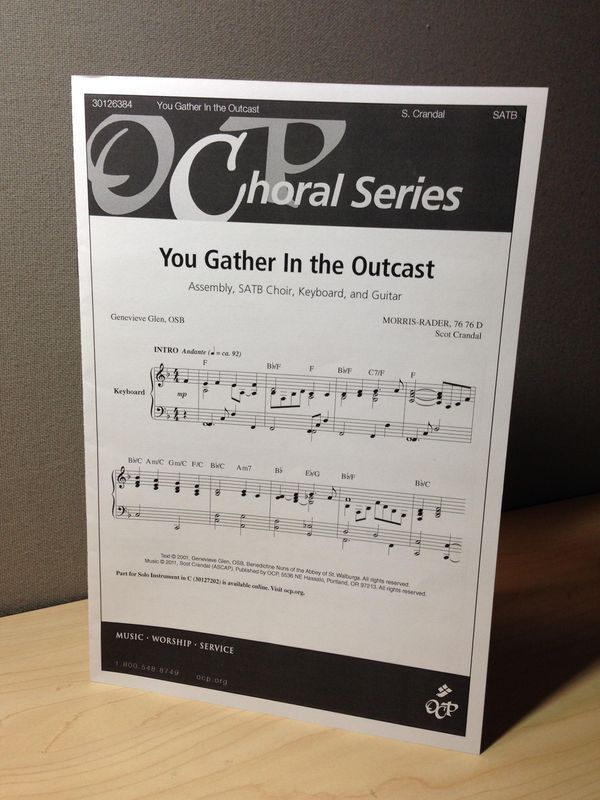 "The tune is so inviting and singable!" –Barbara Bridge

"I must tell you, we LOVE 'You Gather In the Outcast' at St. Ed's. We started using it as a choral prelude last winter, and have since incorporated it into our congregational repertoire. Thank you for this beautiful piece!" –Mary Jo
Published by OCP. Recorded at St. Mary's Cathedral, Portland, Oregon, by the OCP Choir; James Denman, producer; Angela Westhoff-Johnson, conductor; Joseph Muir, soloist; Doug Schneider, organ; Rick Modlin, piano; Alan Juza, oboe; Mike Moore, recording engineer

Click here for a preview PDF copy.

Order:
from the collection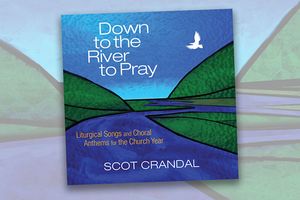 Usage 
Perfect to celebrate themes important to Pope Francis
Gathering/Opening; General Usage; Social Concern 
for any combination of Congregation/Assembly, SATB Choir, Keyboard, and Guitar (can be sung as a choir anthem, or as a simple hymn) - a part for solo instrument in C is also available
Arrangement idea (as recorded): Verse 1: solo; Verse 2: 1st half: women, 2nd half: men; Verse 3: with choral parts (could be a cappella beginning with "Your care is never wearied"); Verse 4: as written with descant 

Scripture References 
Verse 1: Matthew 15:30; Luke 4:40 
Verse 2: John 1:14 
Verse 3: Luke 15:4-6; Psalm 121:4 
Verse 4: Isaiah 55:1; Matthew 11:28; John 13:3-5 

Meter 
About the Text
The striking text was written by Genevieve Glen, OSB, a Benedictine nun at the Abbey of St. Walburga in Virginia Dale, Colorado, and a highly regarded author, poet and composer of hymn texts. Here's what she wrote about this text:  
"This hymn depicts the Jesus of the gospels as he continues to be for us now: gathering, healing, encouraging, finding the lost, caring for all needs without stinting. This is the self-giving Christ embodied in the Eucharist. The last lines recall that John's gospel makes no mention of the blessing of bread and wine at the Last Supper but only tells the story of the washing of the feet. Surely that summary of Christ's work for all the weak, weary, wounded and needy should remind us of the injunction that followed it: "If I, therefore, the master and teacher, have washed your feet, you ought to wash one another's feet." (John 13:14)"
 
Background
This piece was commissioned by Pat & Don Morris-Rader and The Episcopal Parish of St. John the Baptist, Portland, Oregon in honor of its outreach program. It can be sung by a choir, congregation, or both at the same time.


About the Music

Reading Sr. Genevieve Glen's text literally moved me to tears. I strongly felt that congregations would revel in it's meaning and imagery if an accessible melody could be written that enhanced the text's power. Given the text's 76 76 D meter, the melody would need to be lengthy yet I wanted it to be memorable. After considerable revisions based on feedback from various colleagues, the melody arrived at it's current form, adding harmony and an accompaniment that work to enhance the text's aesthetic. In addition to being sung as a hymn, the piece also functions as an SATB choir anthem with descant and optional solo instrument. -Scot Crandal
Text
You gather in the outcast, 
The wretched and the sore. 
From every street and city, 
From every home we pour. 
You lay your hands upon us, 
You heal the wounded soul, 
You raise the crushed, diheartened, 
You make the broken whole. 
You dwell among the lowly, 
The poor and those who mourn. 
To you we bring the suffering, 
To you we bring the torn. 
You meet us with compassion, 
You mend the hurt we bring, 
You give us hope and harbor, 
You make the sad heart sing. 
You shoulder all the burdened, 
The fallen and the lost. 
For you, none is too heavy, 
For you, no bar the cost. 
Your care is never wearied, 
Your love is never still, 
Your watch for us unsleeping, 
Unwavering your will. 
You welcome all the hungry, 
The thirsty and the weak, 
In you we find all fullness, 
In you is what we seek. 
You lay the feast before us, 
You bid us come and eat, 
But, oh, before you serve us, 
You kneel and wash our feet. 
---
Text by Genevieve Glen, OSB, Benedictine Nuns of the Abbey of St. Walburga; Music by Scot Crandal
Text © 2001, Genevieve Glen, OSB, Benedictine Nuns of the Abbey of St. Walburga. All rights reserved. Used with permission.
Music © 2011, Scot Crandal (ASCAP). Published by OCP, 5536 NE Hassalo, Portland, OR 97213. 1-800-LITURGY. All rights reserved.